Improved the image thumbnails popup
To make it easier to preview an image before inserting it into the current document, we added a preview area to the image thumbnails popup.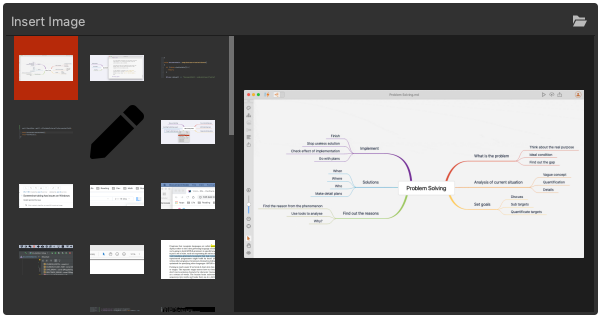 A bigger preview will be shown on the right side when your mouse is over a thumbnail.
Improved site generator following SEO best practices
In this version, we've followed a long list of SEO best practices, and make sure Document Node can automatically generate all the information required by search engines. Some of the details are listed below:
Generate unique and optimal page titles
Generate unique and optimal page description
Set image ALT text automatically
Generate short but accurate URLs for site pages
Generate canonical URLs
Generate robots.txt
Generate sitemap.xml
Improved security for hosting service
A few security settings have been applied in Document Node hosting service.
Set MIME types explicitly
Configured HSTS (HTTP Strict Transport Security) response headers for hosted websites
Enabled content sniffing protection automatically
Enabled clickjack protection automatically
Enabled XSS protection automatically
Miscellaneous Improvements & Fixes
Improved the font style of text editor line numbers
In Editor-only mode, use the same color of text editor background in the window title bar on macOS
Don't empty folders in the docs navigation, Table of Contents, and listing page blocks
Improved text editor performance while typing
Improved the moving operation by drag-and-drop on the projects tree
When no documents are open, switch to the document view automatically
Fixed an issue of detecting the Mind Map central topic
Improved the image resizing handles in the rich text editor to enable mouse-click on the underlying image
Removed unnecessary toolbar icons on the preview page